myron mixon
The chief cook of the Jack's Old South Competition Bar-B-Que Team, the Mayor of Unadilla, GA, and Chef/Partner in Myron Mixon's Pitmaster BBQ in Old Town, Alexander, VA and Hoboken, NJ.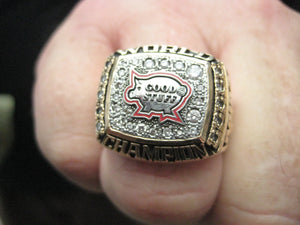 5-Time World Champion
Myron competed in his first competition in Augusta, Georgia, in 1996, where he took first place in whole hog, first place in pork ribs, and third in pork shoulder. Since then, he's won more barbecue competitions than anyone else in the world.

You might ask just how many competitions Myron has won over the years, and here's your answer: He's won over 200 grand championships resulting in over 1,800 total trophies, 30 state championships, 8 Team of the Year awards, and 11 national championships.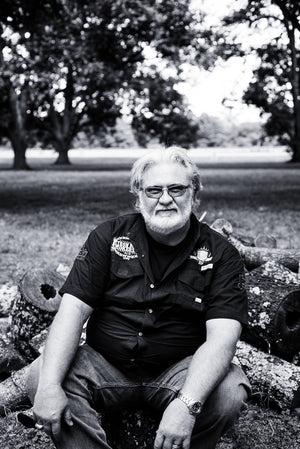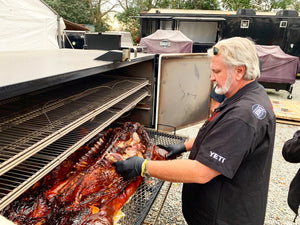 Championship bbq
"I've spent more hours cooking barbecue than just about anybody else in the world. It's that practice and those hours and days and years that enable me to be the best."
Myron's team has taken three first place whole hogs at the Jack Daniels World Championship Invitational Barbeque Competition; has been the Grand Champion at the World Championship in Memphis four times: 2001, 2004, 2007 and 2021 and, has also taken first place in the Whole Hog category at the World Championship in: 2001, 2003, 2004, 2007, and 2021. And, his team is the only team to win Grand Championships in Memphis in May, Kansas City BBQ Society, and Florida BBQ Association in the same year. In 2013, he was inducted into the Barbecue Hall Fame in Kansas City. In 2018, he was awarded the Carolyn and Gary Well "Pioneer of Barbeque" Award by the Jack Daniel's World Championship Invitational Barbecue.
"I became a competitive pitmaster after my father passed away unexpectedly in 1996. Before that, I had spent my entire childhood, or so it seemed to me, helping my dad at his barbecue pits, and I wanted nothing to do with cooking barbecue for a career. But life has a funny way of surprising you."
sharing knowledge
Over the last 10 years, Myron has shared countless tips, tricks, techniques and recipes to help Barbecue Warriors everywhere create better Q.
television
On TV, Myron is the Executive Producer and host of "BBQ Rules," host of the "Smoked," and star of two other hit shows "BBQ Pitmasters" and "BBQ Pitwars" on Discovery's Destination America and Cooking Channel. Myron also launched a brand new YouTube Channel to continue sharing his recipes and BBQ knowledge in real-time.
Cookbooks
He is the author of the hugely successful The New York Times bestselling cookbook Smokin' with Myron Mixon: Recipes Made Simple, from the Winningest Man in Barbecue (Random House, May 2011), Everyday Barbeque (Random House, May 2013),  Myron Mixon's BBQ Rules (Abrams, 2016), BBQ&A with Myron Mixon (Abrams, 2019), and Keto BBQ (Abrams, 2021)
myron mixon products at retail
Myron's products can be found in retail stores across the country, like Lowe's, Ace Hardware, independent dealers, and in a growing number of international locations.

He has his own line of smokers/grills: Myron Mixon Smokers. He has a line of sauces and barbecue rubs that you can purchase in the shop.

He runs a very successful BBQ cooking school in Unadilla, GA, and frequently does classes and cooking demos across the world, from Chicago to Australia.